SRI Sun Temple – SURYANAAR KOIL
Suryanaar Koyil is located in the hamlet of Tirumangalakkudi near Kumbakonam and Mayiladuthurai near Thanjavur in Tamilnadu. This is a one of a kind temple dedicated to the Sun God and it also houses shrines to each of the other eight celestial bodies - the Nava Grahams. Very close by, are the Shivastalams Tirumangalakkudi and Kanjanur (Sukrastalam).
Lord Shiva: Vision Problem solving - To wipe off paternal evil effect - Over come from the Curse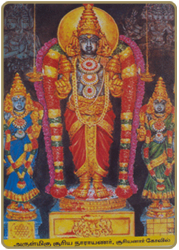 SRI CHANDRA TEMPLE – THINGALOOR KOIL
Chandra Bhagvan Temple is situated
on the Thiruvaiyaru – Kumbakonam route and south Tirupazhanam (Tiruvaiyaru). The greatness of this temple where Chandran, (Moon) offered worship to Lord Shiva and obtained His blessings, as the Puranas
It is believed that if one visits this place and worships the Lord here, they will be rid of diseases and also it is believed that no one has died of snakebite in this place.
Goddess Eswari: To cure shoulder and neck diseases - Relief from the curse through maternal side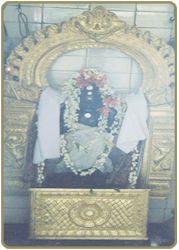 SRI MARS Temple - VAITHEESWARAN KOIL
Vaitheeswaran Temple It is hailed as one of the 9 Navagraha Stalams, sacred to Mars - Angarakan it is visited by thousands. It is located in close proximity to Sirkazhi and Chidambaram.
The temple tank, known as the Sidhdha-amrita-theertham, whose water is considered divine and is believed to cure many incurable diseases.
Lord Subramaniyan: Evil effects through King - Abdominal discomfort - breathing problems - Evil effects through brothers - Hurdles in the marriage - Land and court cases - To get salvation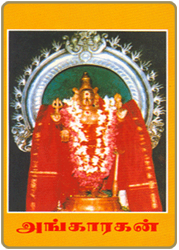 SRI MERCURY TEMPLE – THIRUVENGADU
Suvedaranyar Temle - Thiruvenkadu is located near Mayiladuthurai and is 10 km from Vaitheeswaran Koil and Seerkazhi railway stations. Pilgrims can alight at any of these stations to reach the temple. Wednesdays are very auspicious to Budan Bagavan, offering pooja to Budan Bagavan on Wednesdays is believed to rectify Budan Dhosham.

Lord Vishnu: To acquire intelligence, education and children